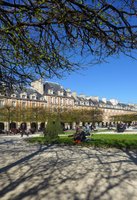 In his book "the Parisian pedestrian" published in 1939, Leon-Paul Fargue described several districts of Paris, among which Place des Vosges.
At his time, the Place des Vosges was essentially inhabited by common people, far from which it is today, mostly inhabited by rich politicians and celebrities and crowded during sunny days. Although mostly occupied by common people, it was still a quiet square with elegant pink mansions.

Before it was built by King Henry IV, the area was occupied by the former gardens of les Tournelles an other royal residence. King Henri II died there after a tournament where he was wounded to death. His wife, Queen Catherine de Medici decided to demolish it. Immediately, the new Place Royale was the place where to live and wealthy aristocrats lived there until the French Revolution.
After the revolution, like in the rest of le Marais, the pavillions were divided into small rented apartments and used by craftsmen. Starting 1970, they were renovated after André Malraux, Minister of Culture decided to protect high historical places like le Marais and Place des Vosges.